Selling Charleston SC Houses, Homes and Condos
How to Get up to 21% More for Your Home - Free Seller Book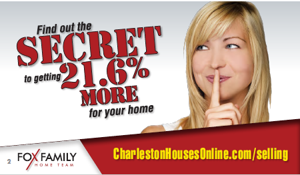 Whether you have lived in your home for years or have a rental home that you haven't seen, we want to advise you on how to set yourself up for success and put the most money in your pocket! The Fox Team will offer Expert Advise on everything you should do to Maximize your profit. Packaging your home for profit before you list can mean the difference between multiple offers or a home that stays on the market for far too long. We want to help you be proactive up front to generate offers rather than constructive criticism!
With the Fox Family Team You'll be Treated Like Family and Receive Family Service from Full Time Top Producers!
Join over 400 happy home buyers and sellers and become a part of our extended family! We'll put our 25 years of experience, along with our individual strengths to work for you to get your home sold for the Most Money Possible, In the Best time Frame for You and with the Fewest Problems! With our team someone is always here for you and no matter what comes up, we'll put our heads together to deliver the best possible results!
Professional Marketing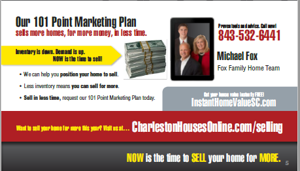 Marketing and technology is rapidly changing and it's easy for a solo agent or real estate company to fall behind. Our Full Time Marketing Staff ensures we bring your home the most exposure! There job is to keep our marketing programs cutting edge and their top priority is to give us the tools to showcase your home to the masses. In addition to the marketing tools and programs they provide, we spend our time and money to add more! For instance, when you list with us, your home will be a featured listing on Zillow, showing up higher in the search results and we have specific ways to generate up to 3 times the Zillow views of other Zillow listings you will be competing with.
Top Notch Photography Maximizes Views Of Your Property
Photography is what will first attract buyers and often the first picture of your home will determine if it is considered or passed by. Our goal is to have eye catching attractive photos of every home we put our name to. We work with several photographers and editors and will evaluate which style will present your home in the best light. It's not all about how to use a camera, get the lighting right or even just the perfect angles. There are specific things we'll do to ensure the stage is set and the photographer has the best opportunity to showcase your homes best features.
3 D Tours Set Your Charleston Area Home Apart From Your Competition